Pet parents want their dog to be fabulous, and that is why they are taking multiple measures for making them look stylish! Spring is in the air, and it felt like a great time to focus on Spring looks. Casting Calls are a fun way to introduce aspiring models and beautiful designs, and so last week I arranged for a Casting Call on America's Top Dog Model ® Facebook page. One cover dog and three models were selected for "Paw Prints" and for this story.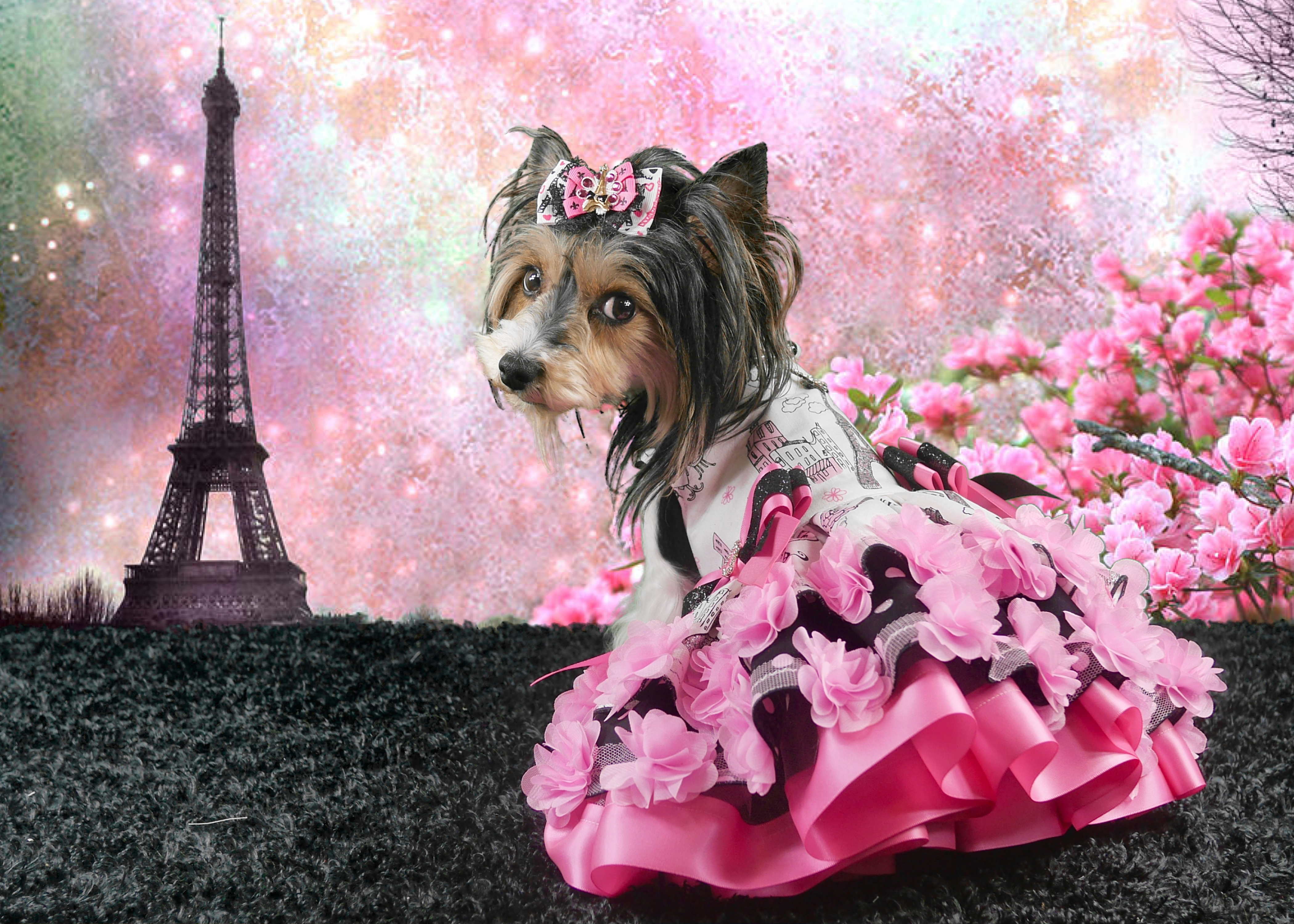 Meet our "Spring into Fashion" Cover Dog" Suri. Paris in springtime is really beautiful, just like Suri's winning photo by mom, Allyson Lee Osborne-Cooper. With wonderful weather for strolling through neighborhoods, sitting outside quaint cafes, and admiring the flowers in bloom, spring is the perfect time to visit the City of Lights.
Suri, a four-year-old Biewer Terrier, is the middle sister to a 9-year-old Yorkie Sassy and 2-year-old Pomeranian Sydney. As a typical middle child, she loves to be the center of attention.
Suri has been modeling designer dresses since she was three months old. Her human mom Allyson Lee Osborne-Cooper is a designer at Suri's Closet Designs. This generous business donates dresses to fundraisers to help fur babies in need. Dresses are also gifted to those who would like something pretty but are on limited incomes. These deserving pups are discovered through Suri's Facebook group, Life with Suri, Sassy, and Sydney.
Fun for Suri is running up and down her families screened in deck letting the neighborhood meowers know she's in charge! She loves a good bully stick and toys that squeak loudly!
Suri has not been to Paris but it's on her Bucket List! The family living room is decorated in a Paris theme complete with a four-foot lighted Eiffel Tower!
Meet our adorable "Spring into Fashion" models, Rose, Mylie Lirue, and Prince Ali.
Rose, America's Top Dog Model ® 2014 national winner is an adventurous, Teacup Poodle from Sharpsburg, Georgia. She comes from a family of "top dog models." Her aunt Katie (RIP) was a finalist in America's Top Dog Model ® 2008 Contest. Rose's uncle Pepe (RIP) was a finalist in our 2010 Contest. Rose's mother Penny was a finalist in our 2009 Contest. And, her sister Mocha is a finalist in America's Top Dog Model 2017 competition.
Rose and her family stay healthy by dancing together for exercise. She loves spring and she enjoys sitting in her favorite sunny spot in the garden pictured here photographed by Connie Fore. She is wearing a dress by Linda Higgins…one of the many winning prizes from America's Top Dog Model ® 2014 contest.
Mylie Lirue was rescued from the snow at 7 weeks old. She was then socialized and house trained so she would be ready for adoption. Mylie now is a Diva who models for designers of pet clothing and accessories all over the world. Mylie's goal is to become one of the best models to her designers and to bring more love into the world by getting acceptance as an emotional pet. Mylie is wearing Boushon by Yoanna Esp. Her photo is by mom Elizabeth Landry at Lizard Lane Fotos.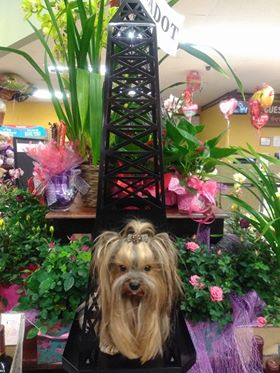 Prince Ali, America's Top Dog Model 2016 national finalist dreams of "spring in Paris, flowers and love. Not only does he represent the month of March in America's Top Dog Model 2018 calendar, he has also won multiple photo and modeling contests. Prince Ali is an advocate for Yorkie Luv Rescue in Arizona. He hopes to raise funds and awareness for rescues, and shelters, by participating in as many charitable fundraisers as possible. Prince Ali's photo by mom Ann Hinton. He is wearing a Castle Crown clip by Castle Hinton Creations.
Thank you and Congratulations Suri, Rose, Mylie Lirue, and Prince Ali.