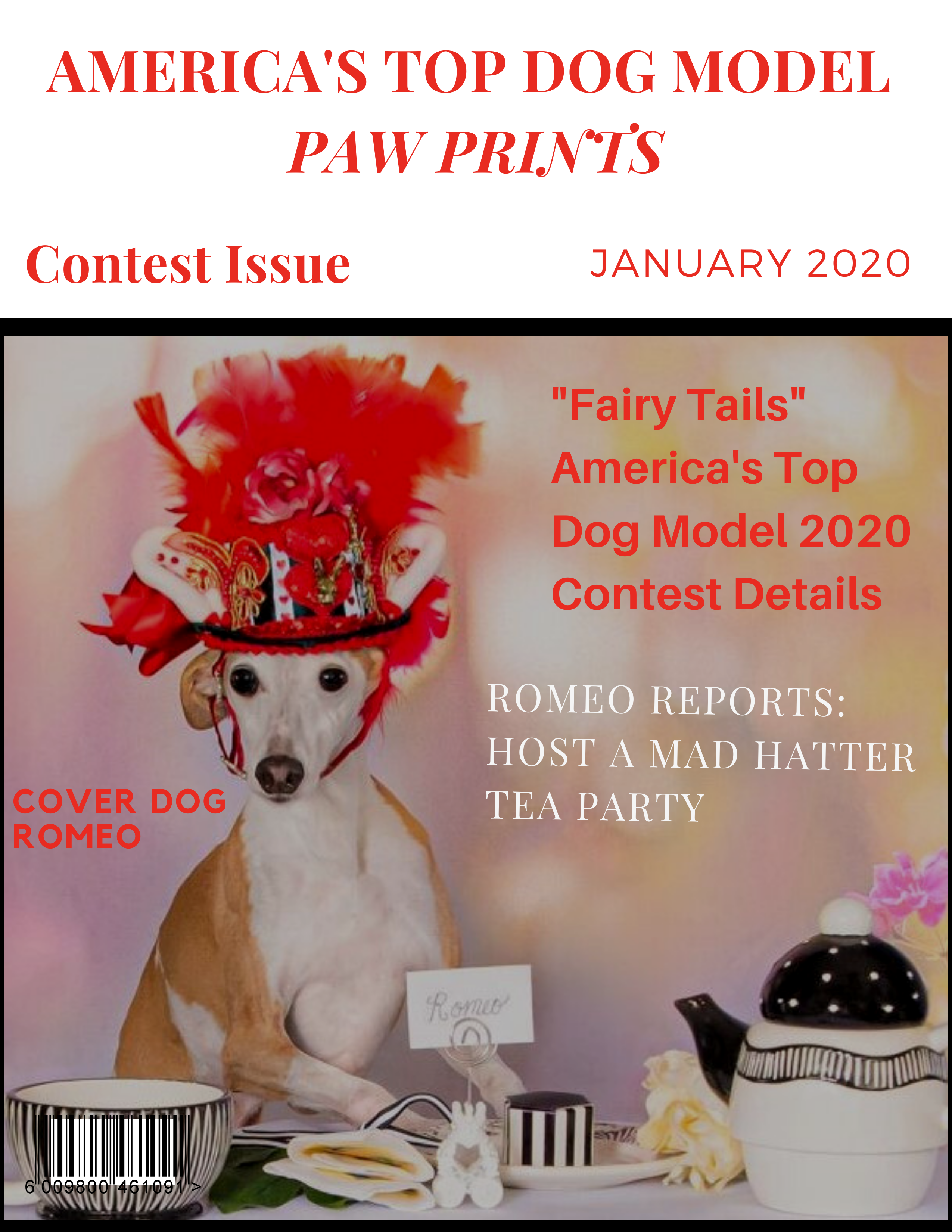 As we start the New Year, I am excited to announce the launch of America's Top Dog Model 2020 annual contest! Can you believe this is our fifteenth contest? Many of our fans have been part of America's Top Dog Model ® Contest since the beginning. Thank you to all of our fans, America's Top Dog Model family members, and contest sponsors for your continued support.
The theme for America's Top Dog Model ® 2020 Contest is "Fairy Tails." If you can imagine your dog as a star in a book of Fairy Tails, this contest is for you! One cover dog and eleven finalists will have their winning photos and stories published in America's Top Dog Model's book of Fairy Tails, and win an array of paw-some prizes!
In response to the coronavirus pandemic, America's Top Dog Model has extended the 2020 Contest "Fairy Tails" to June 30th. The extension will give every contestant the best opportunity to create a winning entry during this very challenging and difficult time. Wishing all contestants best of luck while staying safe and healthy.
America's Top Dog Model ® Contest would not be a success without our generous prize sponsors. Each month throughout this competition we will spotlight our contest sponsors in Paw Prints. In our January issue of Paw Prints the "Spotlight" is on our friend and long-time associate, Vasi Siedman, the owner of Vasi studio and the new PetPix Academy. Thank you Vasi Siedman for your generous contributions and tremendous support of America's Top Dog Model ® Contest. Check this list of all of our amazing, contest sponsors:
The Grand Prize Winner will receive the following:
Finalists Prizes:
Eleven Finalists will have their winning story published in America's Top Dog Model (R) book of Fairy Tails and contest photo featured on the website; they will also receive an autographed copy of How to Become a Top Dog Model and six-month subscription to PetPIX Academy online photography classes.
Meet cover dog Romeo, my best friend, columnist, model, and dedicated, ambassador for America's Top Dog Model brand. One of my favorite fairy tales is "Alice in Wonderland," so we created this amazing scene with Romeo hosting a Mad Hatter Tea party, photographed by Vasi Siedam and styled by me.
As America's Top Dog Model Ambassador, Romeo shows prospective contestants how fun it is to create a fairy tail, in our new YouTube video photo shoot at Vasi Studios. And, in Romeo's Report, he shows us "how to host a Mad Hatter Tea Party."
Oh, what fun we are going to have exploring the world of "Once upon a time!" Stay safe and best of luck to all of our contestants!