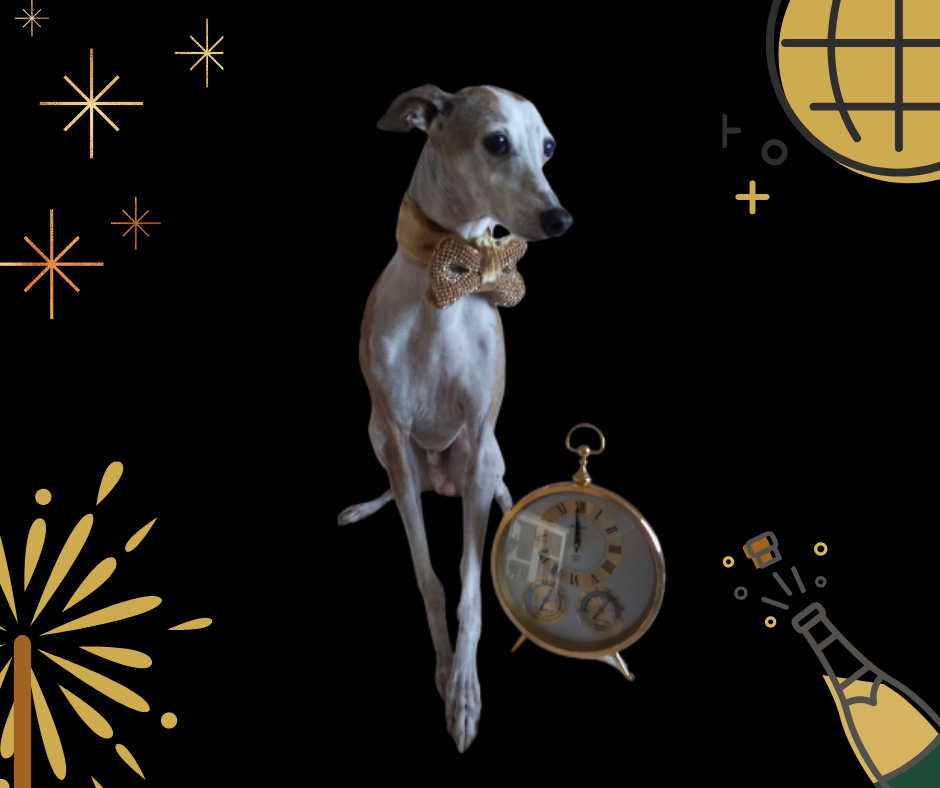 Bark in the New Year while sharing a festive party with the ones you love. Fill your home with your closest canine friends and their people.
Setting
Plan everything in advance from the plates to the color theme. We chose the color gold for our theme. Create invitations and print party details in gold ink. Enclose the invitation in a white envelope and seal with gold wax. You can find sealing wax at a specialty stationer, gift store, or large bookstore. Be sure the invitation outlines the evening's festivities. For example: Guests arrive at 9 p.m. for cocktails and hors d'oeuvres; dinner served at 10 p.m.; followed by a cheese course; a special homemade dessert at 11 p.m.; and champagne at midnight to greet the New Year. Attire: Suggest guests wear something gold.
On a special night such as New Year's Eve, the table setting will set the tone. Make it sparkle, so that your guests feel special.
Menu
Here's a suggested menu for the various courses:
Drinks: Wine and champagne for people; champagne (bottled water) for doggies.
Hors d'oeuvres: Caviar for people; Happy Hearts & Shining Stars vegetarian biscuits for dogs.
Salad: Caesar salad for people.
Entrée: Broiled lobster tails and twice-baked potatoes for people; DIY turkey meatballs for doggies.
Cheese course: Three or four kinds of distinctive cheese—such as a soft mild cheese, a hard sharp cheese, and a blue cheese (like gorgonzola or Stilton)—for people.
Dessert: Miniature hot chocolate cakes for people; Christmas Carrot Cake Treats or Cranberry Jubilee for doggies.
Countdown
Here is the countdown for party preparation:
Two weeks: Send invitations, decorate house for the holidays.
One week: Select music, purchase candles and table décor. Check your guest list and prepare grocery list.
Two days: Buy groceries for dinner.
One day: Make (or purchase) hot chocolate cakes. Chill wine and champagne. Set table. Make Christmas Carrot Cake, Cranberry Jubilee, Happy Hearts & Shining Stars dog treats. Following you will find all three of these yummy dog treat recipes.
Four hours: Make turkey meatballs for dogs (no onions and garlic). See various online turkey meatball DIY recipes for dogs.
Three hours: Assemble ingredients for Caesar salad. Set up bar. Turn on outside lights.
Two hours: Get yourself and doggy ready.
Thirty minutes: Put on music, light candles, reheat potatoes.
During champagne cocktails: set up cheese tray, broil lobster; toss salad with dressing.
During cheese course: Prepare desserts.
After desserts: Pour each guest a glass of champagne for the midnight toast. Fill doggy bowls with doggy champagne, then watch them yap in the New Year!
See our Yappy New Year's Party and many others party themes from the book Diva Dogs: A Style Guide to Living the Fabulous Life.
Y-A-P-P-Y N-E-W Y-E-A-R!!