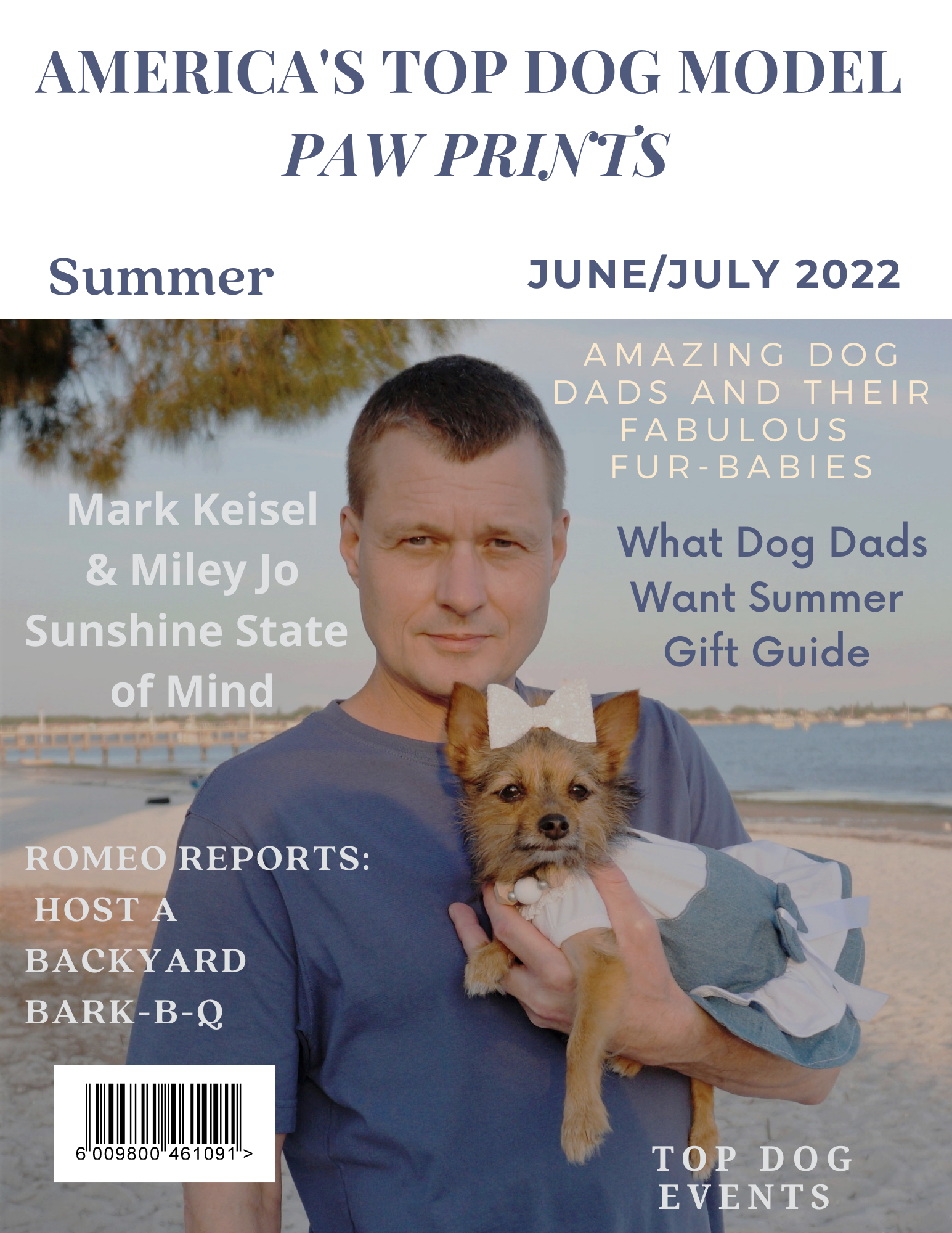 America's Top Dog Model Paw Prints Magazine features six amazing dog dads and their fabulous fur-babies celebrating Father's Day and summer.
Dog Dads deserve the best, and gifts for Father's Day or any other occasion, don't have to be limited to a new tie. We want to make sure they feel the love. It's easy to do when you check out our pawpular "what dog dads want summer gift guide." Our summer issue is available in print. Order your copy here.
GHIBLI Collection
The
Puppy Panache GHIBLI Collection
is exactly what dog dads need when they are walking their best girl or boy. It is an homage to the leather luxury, stunning beauty, and exquisite craftsmanship of the Maserati Ghibli. All pieces of this designer dog accessory collection are made of genuine Italian soft calf leather, adorned with colorful Swarovski crystals. Both collar and leash consist of a single strip of leather, folded in half, and sewn on a continuum, giving them unmatched softness and maximum wear comfort. Internally, a tear-proof material reinforces the leather, ensuring strength and flexibility for those times when your dog might pull. All pieces are bejeweled with genuine Swarovski crystals, alternated with cameos and studs, and applied individually by hand. The metal parts are made from iron and zamak alloy,and finished in an antique silver bath.
Shave Luxury Gift Collection

TAKE THE ART OF GIVING TO THE NEXT LEVEL WITH SOAP CAULDRON'S LUXURY GIFT COLLECTIONS Enjoy Soap Cauldron's popular Shave scents in an array of skin care offerings. Nourishing and therapeutic essential oils blend artfully with natural botanicals and gentle base oils to replenish and harmonize the body and mind. The ultra-Moisturizing Complex of beneficial ingredients combine for a clean and smooth shaving experience.




The Juniper Essentials Gift Set pictured here includes:

1- 4 oz. Juniper Shave Soap
1- 2.5 oz. Juniper Shave Balm
1 -3.2 oz Juniper Shave Oil
1- Brazilian Cherry Handcrafted Shave Brush
1 - Razor
1 - Ceramic Shave Bowl



Memory Foam Car Dog Bed
With travel season fast-approaching, leading pet family lifestyle brand
Paw.com
has the perfect products for the pawrents who like to take their furry friends on adventures. Alongside the PupRug™ Portable Orthopedic Dog Bed,
Paw.com
has released a new line of the PupProtector™
Memory Foam Car Dog Beds
- available in 4 sizes - just in time for what is sure to be a record-breaking busy travel season this year. These products are stylish, convenient, and comfortable– exactly what dog dads need for traveling with their pups.
Grill Master Custom Gift Set
When something needs to be grilled, who are you going to call?
Groovy Guy Gifts
personalized larger-than-life multi-barbeque-set is the perfect answer. Whether dad's up for giant marshmallow roasting or T-bone steak grilling, he's the grill buster everyone will want to call. The set and case are made of high-quality bamboo, coming with a spatula, fork, and tongs. The case is extra tough, with secure latches and rugged handle. It measures 19 5/8" x 5 1/2", and it can be personalized.



GOT BAG's ROLL TOP

What's a dog dad and his best girl or boy like to do together? Why get away, of course. That's why dog dads need

Got Bag's Roll Top

. Adjustable and durable, the ROLL TOP is the all-rounder for adventure seekers and outdoor lovers. It protects essentials from wind and weather and expands easily, thanks to the flexible rolltop and adjustable side straps. It also protects laptops from scratches with a separate, removable 15-inch case. The bags come in a variety of colors and is perfect for packing up everything you need for a day out with your dog(s).




The ROLL TOP is the all-rounder for adventure seekers and outdoor lovers For each ROLLTOP BACKPACK the company recyles7.7 lbs. of Ocean Impact Plastic. GOT BAG is a sustainable, social-first fashion brand dedicated to raising awareness and cleaning our oceans from plastic pollution. They are dedicating their efforts to clean oceans and the responsible use of plastic.
Dads will love
Placeware's
Tonka Eau De Toilette. It is an exotic fragrance capturing the zing of mandarin and pink peppercorn alongside warm woodland aromatics, finishing with the earthy vanilla of the tonka bean. Exotic and indulgent, Tonka's story begins in a jar of pink peppercorns. Rummaging in the spice cupboard, Laboratory Perfumes discovered that beneath the peppery notes the dried berries have a floral fruitiness. Combined with the zing of mandarin and the rich depth of woodland aromatics, Tonka came to life. Founded in the UK in 2012, the modern scents of Laboratory Perfumes have the flora of the English coast and countryside as their starting point and evolve in complex layers on the skin.
Man's Best Friend Gift Set
Share the love this Father's Day with Man's Best Friend! With Mason Grove Farm's bundle, your fur babies will be treated from the inside out. From a paw soother to treats, your fur babies will experience all the love with MasonGrove Farm's 100% clean products. Safe for all types of dogs, the
Man's Best Friend gift set
includes Bacon, Cheddar & Quinoa biscuits, Bark Bar soap and Paw soother. Made with only the best ingredients you can be sure your best friend is receiving the best care with
Mason Grove Farm
.
Walking the dog in the sun, requires a cool head. What better than America's Top Dog Model ® signature hat that shows off amazing style? A great gift for an outdoorsy dog dad, this hat feels cool and comfortable and the America's Top Dog Model logo looks elegantly stylish. Peaches' dad Bob, one of our featured models, wears it well. What's more, dog dads and pups can twin in style with this coordinating America's Top Dog Model ® signature 100 % cotton bandana. Also, included, America's Top Dog Model signature planner. Perfect for busy lifestyles, this planner has a place to plan months, plan weeks, and write down everything that's important! A practical and thoughtful
gift set
any dog dad would appreciate!
True Scoops
Give dad the coolest gift this year... a deluxe gift box from
True Scoops
! It's like an ice cream shop in a box. Each box comes with crinkle paper, ribbon, and a gift tag. Shipping direct to the gift recipient? Include the To:/From: info at checkout and they will happily fill it out for you. What's Included: (1) Vanilla Bean Ice Cream Mix (1) Chocolate Ice Cream Mix (1) Strawberry Ice Cream Mix (1) Hot Fudge Sauce Mix (1) Salted Butterscotch Sauce Mix (1) Jar of "Dreams Come True Sprinkles" (2) Silver Ice Cream Spoons 1 Pouch of Ice Cream Mix = 1 Quart of Ice Cream 1 Pouch of Sauce Mix = 1 Cup of Sauce