It's important to use the power of collaboration to elevate women in every industry. I strongly believe
that women who raise each other up and channel the power of collaboration truly makes an impact.
So excited to present eight fascinating "Women-owned Brands to Support All Year Round!"



Bonnie & Pop.

HERE COME THE SPRING HOLIDAYS! TAKE THE ART OF GIVING TO THE NEXT LEVEL WITH BONNIE & POP'S CURATED GIFT BOXES AND BASKETS. Mother-daughter owned business elevates Mother's Day, and beyond with premium chocolates, cookies, nuts, and more. Whether you want to say "Thanks," "I love you," or "I'm thinking of you," nothing quite hits the spot like a fresh selection of irresistible gourmet goodies. And nobody understands the art of gifting like

Bonnie & Pop

. Their elegant spring holiday gift boxes and baskets are filled with the highest quality chocolates, cookies, nuts, candies, chocolate-dipped pretzels, dried fruits, and other mouth-watering favorites. In addition, Bonnie & Pop will help you out with customized corporate gifts.




Mother-daughter owned business elevates Mother's Day, and beyond with premium chocolates, cookies, nuts, and more These gifts are creatively packaged for any occasion, easy to order online, and delivered contact-free. Plus, they're available at a variety of price points to fit any budget. Why does Bonnie & Pop put so much TLC into their creations? "The company is named for our two beloved and exceptional grandparents-our father's mother (Bonnie) and mother's father (Jake (Pop))," says company owner Mookie D. "We were raised by their example and emphasis on making someone else's life better whenever you're in the position to do it. "Bonnie and Pop devoted their lives to making people happy. They're the inspiration behind everything we do."
PeachSkinSheets.
When researching the existing sheets on the market, Karen Levine kept seeing the same problems over and over again. Hundreds of sheets were not soft upon opening the package—they required several trips through the washing machine to reach her desired level of comfort. Additionally, tons of sheets trapped heat and lacked the cooling and breathable quality she was looking for. In 2013,
PeachSkinSheets
was born. With dedication, perseverance and extensive research, Karen created the first ever luxury sheets at affordable prices. She ensured that the sheets were soft immediately upon arrival, breathable, temperature regulated, durable, and pill resistant. Eight years later, PeachSkinSheets sell high-performance, affordable sheets and duvet cover sets in 24 unique colors and boasts over 28,000 5-star reviews from happy customers! Karen uses her brand to support causes that are dear to her heart, such as supporting single mothers and donating to animal shelters. PeachSkinSheets hires a lot of single mothers and donate returns and defective products to local animal rescues. Who wouldn't want to have breakfast in bed with PeachSkinSheets?
YaYa's Pet Bling. What is spring without bling? This YaYa's Pet Bling custom made violet, blue and silver pet necklace was designed for a special fur baby. It is a mixture of silver carved beads, sparkling violet beads, glass and ceramic beads. It was created by April Nichols the founder of YaYa's Pet Bling, who isone of our beautiful "Spring into Fashion" models. Contact her to have your own, custom-made necklace, for you and your fur baby(s). Instagram @Yayaspetbling.
The Hip Hat

Sisters and business partners, Irene and Elena, both professionals and moms, found themselves on similar personal journeys as they felt strong desires to collate their professional growths and career paths with their roles as mothers and wives. They came up with what they profoundly believe to be a winning formula. They decided to build their own enterprise, and that is how

The Hip Hat

was born. Their American-based hip headwear shop is more than a business. The Hip Hat is home to exquisitely handcrafted original straw Panama Hats that inspire. It is a unique place where luxurious, environmentally, and socially consciously crafted products are mutually inclusive.






RoseCrochetta's
crocheted collars are "Ready to Bloom!" These beautiful collars are created by Manuela Rose Brown in the United Kingdom. The beautiful hand crocheted large 3D blossoms have a vintage or antique piece in the flower center. The band, ties and flowers are made from 100% high quality cotton yarn, and/or high-quality acrylic yarn. Pastel flowers are carefully sewed on a matching crocheted band and beaded ties have matching beads or pearls. Each collar comes with a matching crocheted RoseCrochetta-Charm and matching vintage/antique center piece. Many different color variations are available.
Love Dog Republic.
What is better than a cozy night at home snuggled up with your pup in the beautiful glow and gorgeous scent of a candle? You won't find cuter labels anywhere and their signature scents like Salted Vanilla & Bourbon & Sugared Vanilla Cream are loved and coveted. These make the best gifts for any dog lover with amazing taste! Love this "Life with Dogs"
Candle Collection
.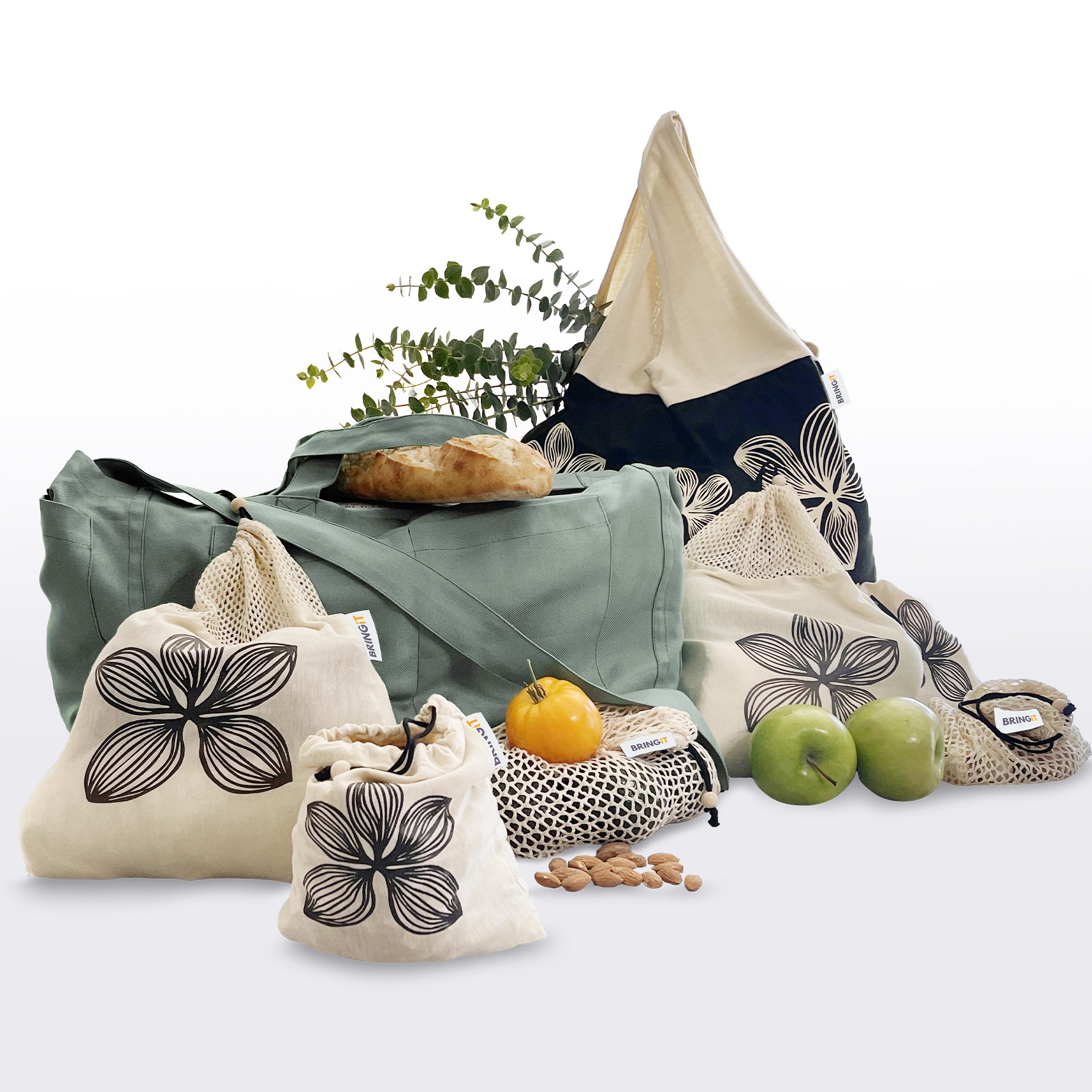 BRINGIT Bags.

Deb Singer and Karin Heck started

BRINGIT Bags

PBC in 2021, after meeting and discovering their shared passion for a world without plastic bag waste. Their company makes reusable shopping bags that are the only bags on the market made from sustainably grown tree fiber. The fiber is made from beechwood and eucalyptus trees which are naturally regenerative, and the production process has no waste. So much better than plastic and also better than cotton because the production has a far superior environmental footprint. The best part is that these bags will never end up in a landfill or in the ocean because at the end of their life (after hundreds of uses and washes), the bags are home compostable and marine biodegradable.




The iTKit Shopping System is a reusable grocery bag set that includes all the bags you need for an organized and plastic-free trip to the market. These beautiful bags are designed to meet the needs of shoppers – extra wide straps, soft and durable material for comfort, and flexibility that allows for compact and organized storage between shopping trips. The bags can be used beyond grocery shopping – they are everyday bags that are super cute and unforgettable! The iTKit Shopping System, pictured here, is a reusable grocery bag set that includes all the bags you need for an organized and plastic-free trip to the market. Wide straps that ensure a comfortable carry, pockets for storage. This iTKit includes one iTTote, one iTBag Shopper, two Mesh Produce Bags, two Large Produce Bags, and two Small Produce Bags.
Introducing
Spleash
, a woman-owned pet product company that started in 2019. Spleash, invented by founder and CEO, Kerry Cooke, is a spray leash handle that holds 12 oz of water and attaches to any standard-sized leash. Dogs get dehydrated, just like people do! When your fur-baby starts panting halfway through your walk... provide a drink with Spleash®! Attach it to your favorite leash, and you can quickly refresh your pup with a squeeze of your finger without having to grab or carry anything other than your leash.