The color pink is stunningly eye-catching and the shade has been trending all year, thanks to Barbie! Whether it's because of the color's vibrancy or its association with love, a touch of pink almost always adds a positive, uplifting spin. So, for Howl-O-Ween this year, our Paw Prints models embrace the fun-loving, life-of-the-party pink with their fabulous costumes and décor, while sharing important tips for keeping pups safe.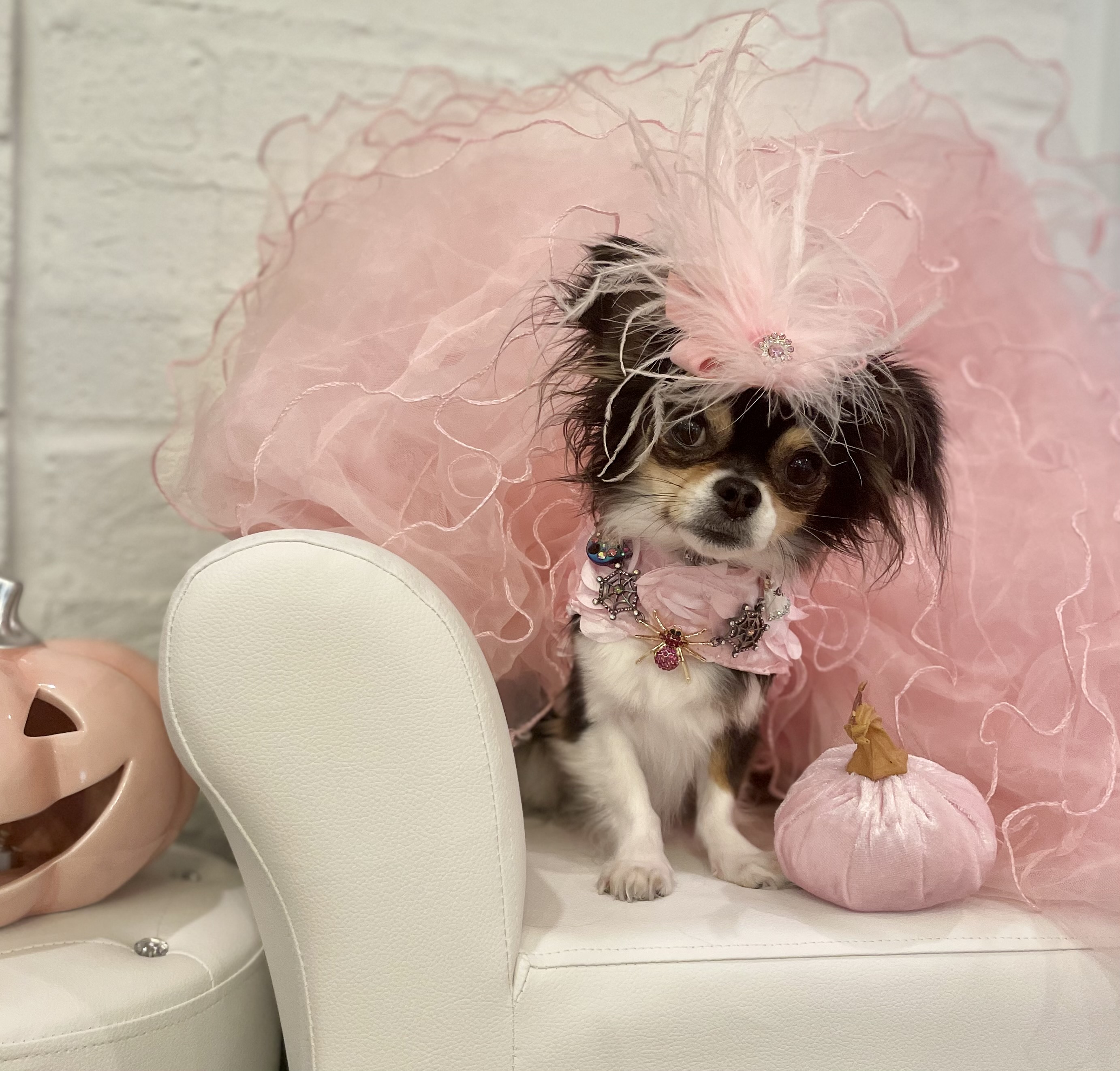 Happy pinkoween! Halloween and pink are two of my favorite things! My name is Maya Marie and this will be my 2nd Halloween. I am looking forward to Halloween costume contests, Oktoberfest, our local walk for the animals and shopping with mom. I'm excited to see what my doggie friends will be wearing for Halloween! My safety tip is always having your mom hold you when trick or treaters come to the door. Mommy would cry if I ever got out. Have a safe and spooky Halloween everyone! My beautiful pink gown is by Danielle Pursel @sewdoggonecreative; headpiece by mom. Necklace @betsyjohnson and photo by mommy. Find me on my mom's Facebook page and TikTok @Gerallyn Grassie.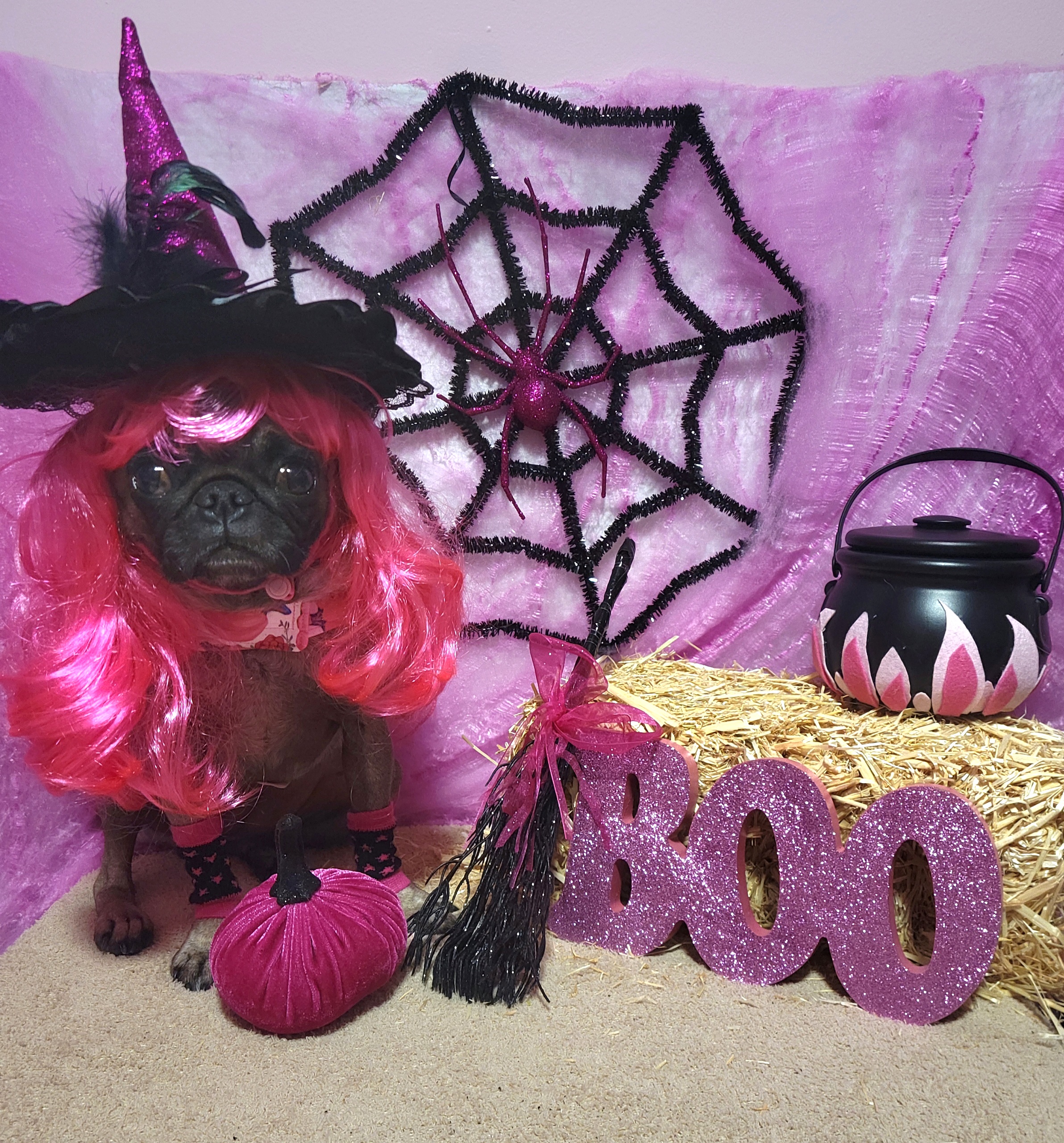 Hi, I'm Betsey. My Halloween safety tips are to watch out for ghosts and goblins. Don't let the wicked witch scoop you up; stay with mommy and daddy at all times and never wander off; and don't take treats from strangers unless mommy or daddy says it's ok. I hope everyone has a Boo-tiful PINK HALLOWEEN!!!!! Photo by mom Lisa Kerner; design by Allyson Lee Osborne.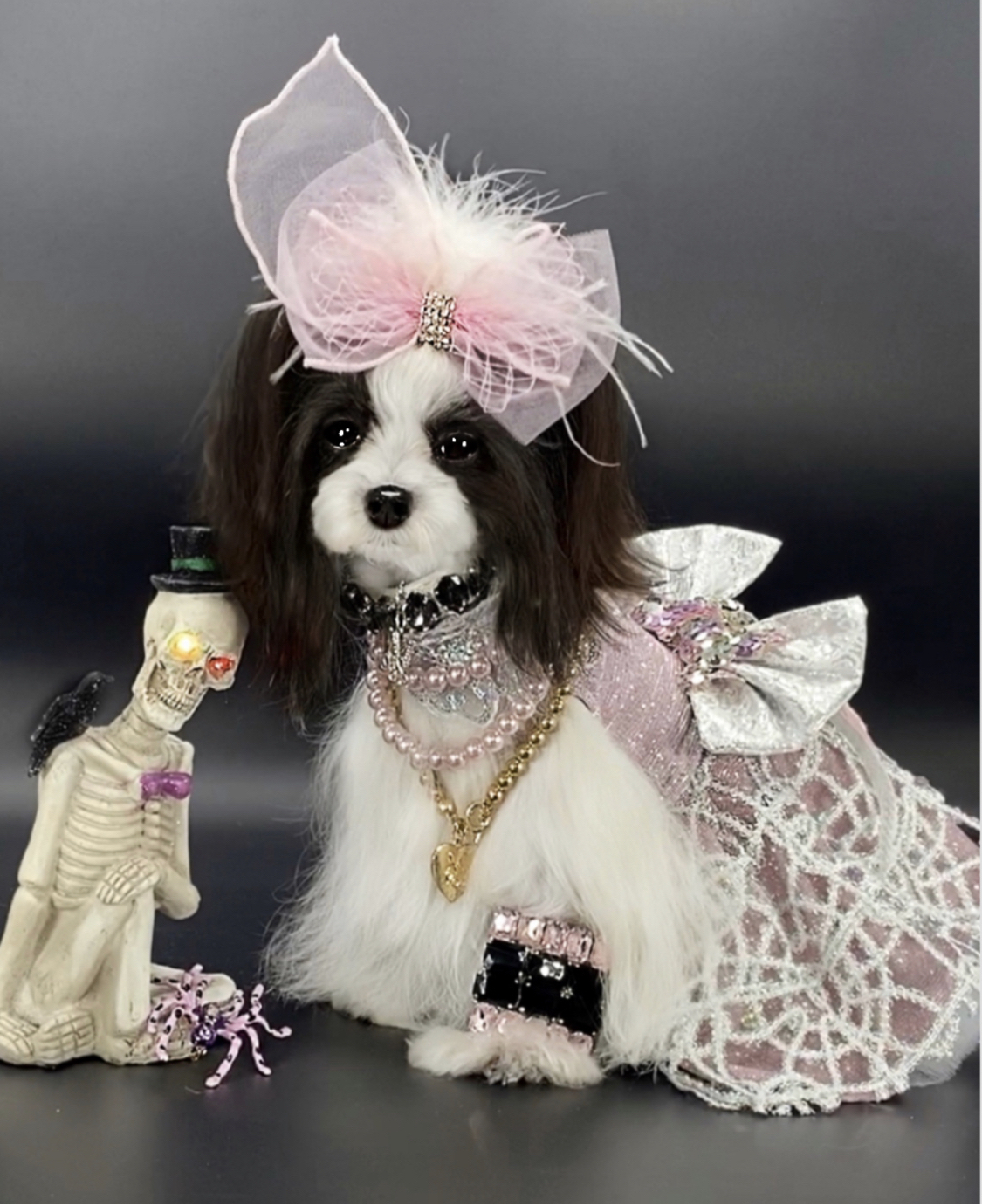 Hi, my name is Babydoll. I live in Oklahoma about 15 minutes from Tulsa. I'm a little Chipoo, and I am the only puppy in my family. This is why my mommy teaches me tricks. She says it keeps me active and it's her way to give me the attention she thinks I need. It is super fun for me because I always get tasty treats. This year on Halloween I get to help my pawrents hand out candy to the little kids! It is so fun, because they all want to pet me! My Halloween safety tip is to keep chocolate candy out of reach of us furbabies as it is not safe for us to eat. Photo by Mom Dixie Fallin-Slamans; Spiderweb Dress @Sandy Ann; Pink Bow @maggieandco; Kohl Gem Collar @maggieandco; Classy Barbie Necklace @maggieandco; French Cuff @furkidfancyneckwear; Instagram @fashion_classy_babydoll.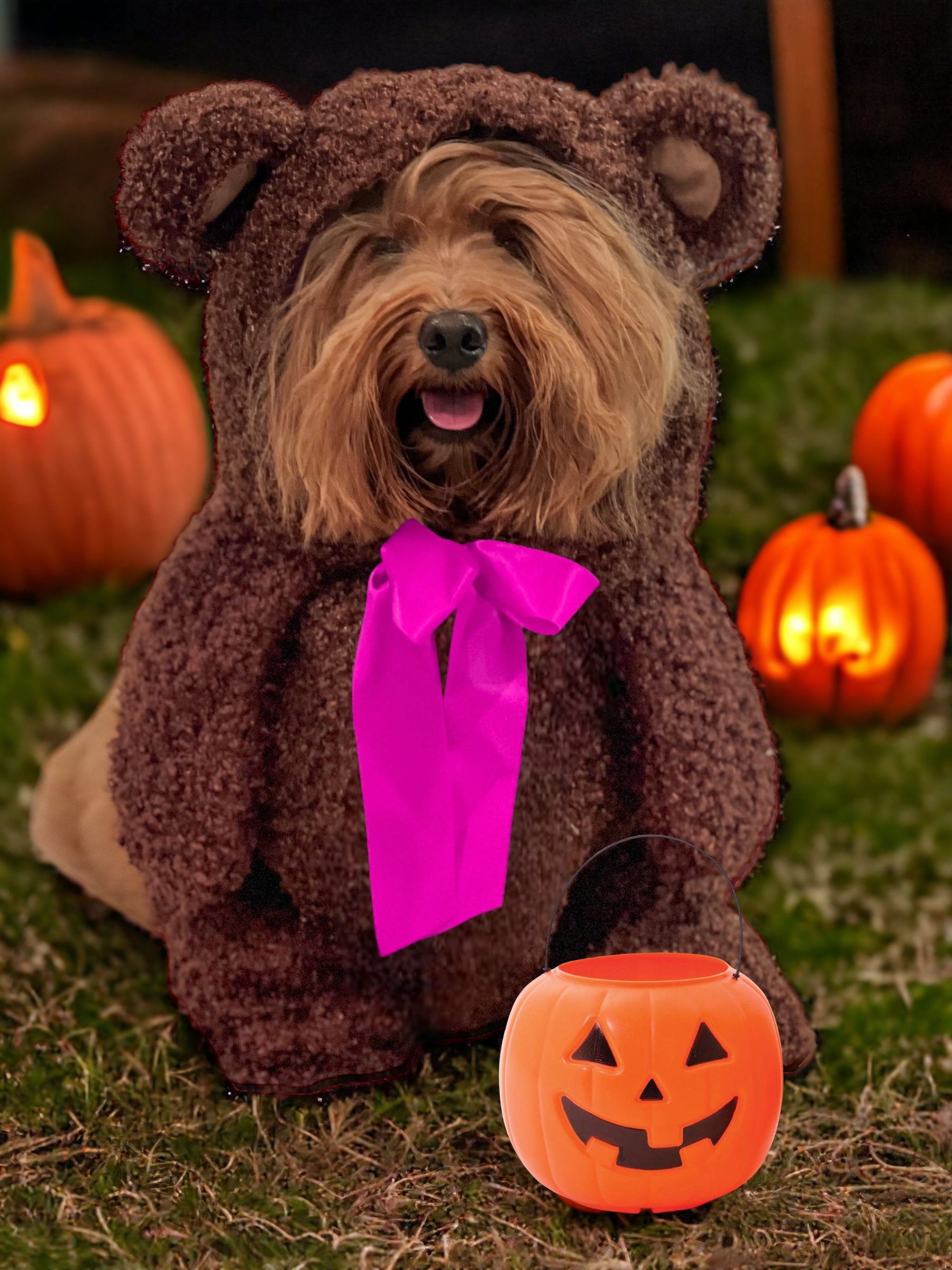 Woof! I'm Teddy, a petite mini Goldendoodle from Tennessee. I enjoy car rides, boat rides, long walkies and going to the dog park. I love being outdoors. Spooky season is my favorite time of year because the weather is great—it's not too hot and it's not too cold. On Halloween night, I like to dress up and greet all the trick-or-treaters that come to our door. We give them treats and they give me lots of love and attention. Sometimes I get to join all the kids for trick-or-treating in my neighborhood. It's so much fun! But remember, chocolate is toxic to dogs. So, it's a good idea to keep dog friendly treats on hand for canine visitors. Stay safe and have fun! Photo by mom Laurie Barocas; costume @amazonpets; Instagram @teddybearocas.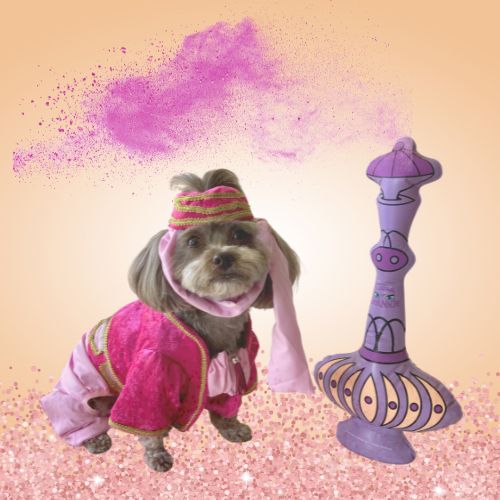 My name is Mocha. I was found walking along the road in the Ocala National Forest. When I met my new master, Randy Dodsworth, I knew I had found my forever home. I love to go for long walks in our community, play with other dogs, and snuggle on the sofa. I also enjoy modeling for Rags to Riches Designs and CHEWY. My Halloween safety tip is to remember that chocolate is toxic for us pups! It may smell delicious, but don't be tempted by the smell. Photo and costume by Sharon Dodsworth @Rags to Riches Designs by Sharon Dodsworth; Facebook @royalragstoriches; Instagram @royalprincessmocha.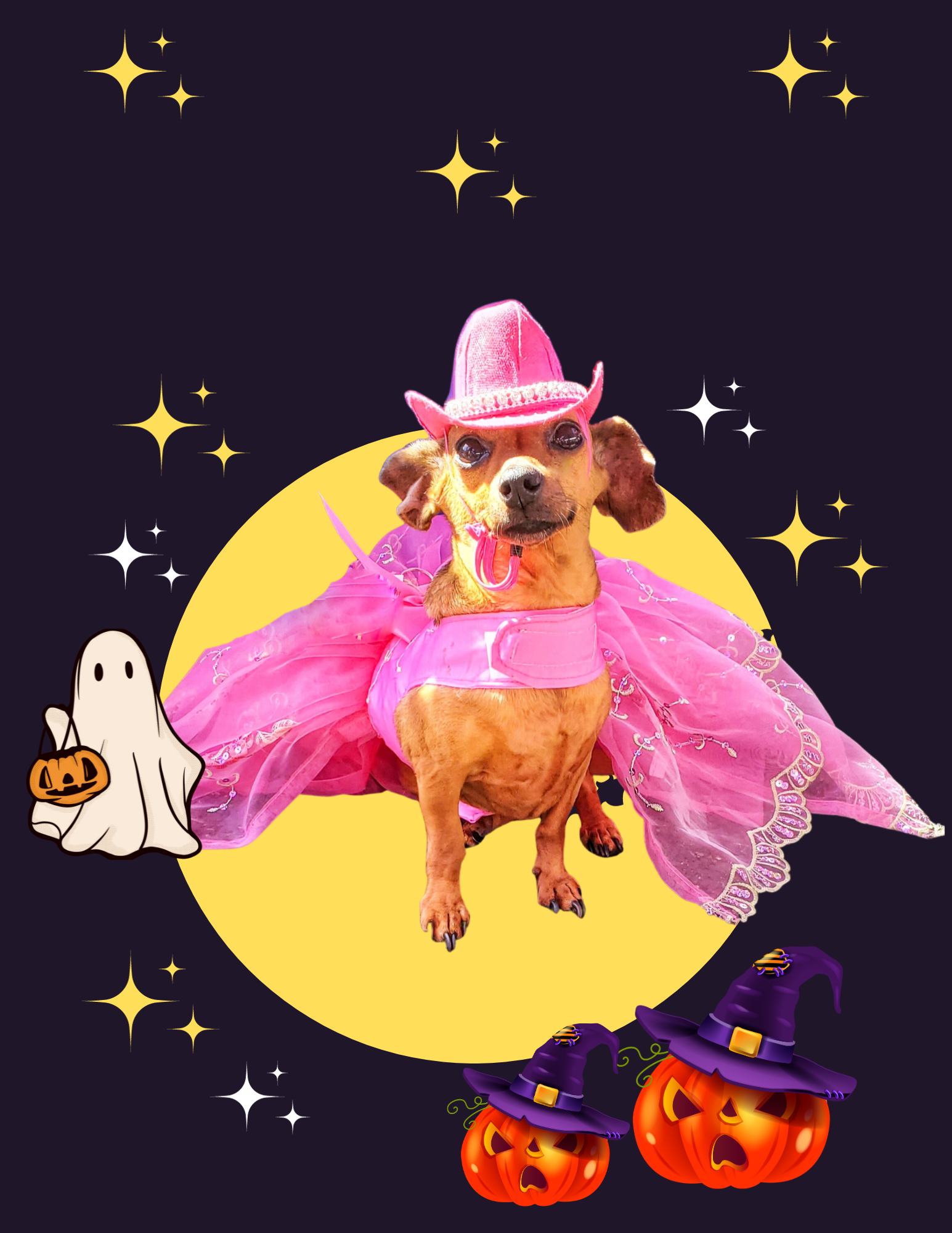 My name is Peanut Diamond and I am wearing a custom-made gown and cowboy hat from my furiend Santa Gonzales. I am a rescue found in 2016 on the side of the road with a broken pelvis and a broken leg. Since being rescued, I have used my modeling talent posting in gowns to raise money to help other shelter dogs get rescued! My Halloween safety tip is to play music to distract your pups when trick or treaters ring the doorbell which we LOVE to bark at. I will spend the month of September participating in the Big Give event - bit.ly/peanutd23 and in October, I will compete in pet costume contests and donate the winnings to rescue. Learn more about me on Facebook @PeanutDiamond.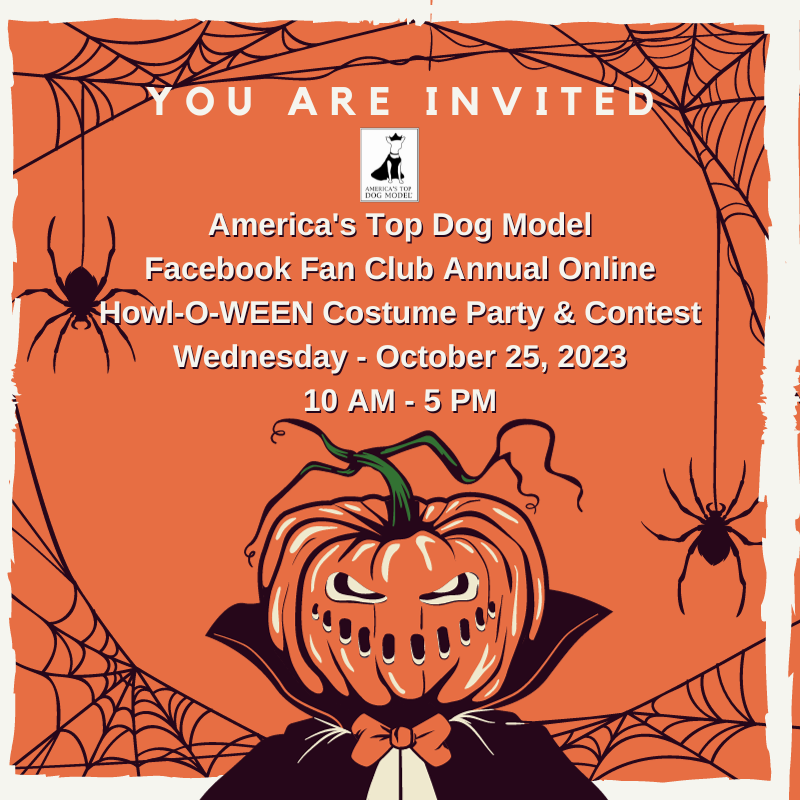 You are invited to meet these fabulous pup fashionistas at America's Top Dog Model Facebook Fan Club annual online Halloween Costume Party and Contest on October 25, 2023. If you are not a member of America's Top Dog Model Facebook Fan Club, you can request to join by answering three questions on its group cover page.